2020 Tokyo Olympics bronze medalist Eumir Felix Marcial is still undefeated and has a clean boxing record as he defeats his Argentine foe, Ricardo Ruben Villalba.
It was another win for the Philippines as Marcial knocked out Villalba during their preliminary boxing fight on February 12 at the Aladome in San Antonio, Texas, USA.
In a span of 48 seconds, the 27-year-old boxer from Zamboanga defeated Villalba with his right hook during the second round.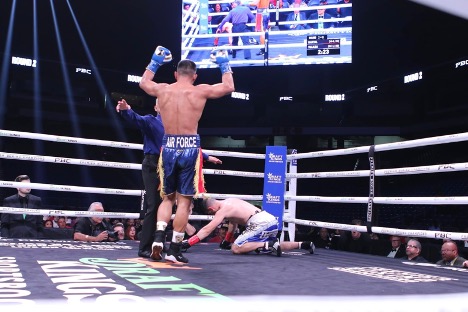 "We are still undefeated! Humbled to have won the fight against a tough veteran, Argentinian Ricardo Ruben Villalba via KO after the 2nd round. All my trainings have paid off and my hard work bore fruit of our labor," Marcial said on his Facebook account.
Besides this, Zamboanga's pride, Marcial, also shared how he was able to use what he learned from his past professional fights in his recent boxing match.
"I am most grateful to have had a very productive training with my camp and I am just happy to have showed the fans what I've improved on and prepared for over the last few months," Marcial said.
Eumir Marcial is an amateur boxer who officially started his career as a professional boxer in 2020, which led him to participate in the 2020 Tokyo Summer Olympics. Out of his four professional fights, the Filipino boxer still has no record of losing.
Photo Credit:
https://www.facebook.com/FilipinoBoxer