SM Prime Holdings, Inc. (SM Prime), one of the largest integrated property developers in Southeast Asia, expands its premium office portfolio with the launch of FourE-com Center, the latest Pre-LEED Gold certified office building in the vibrant SM Mall of Asia Complex.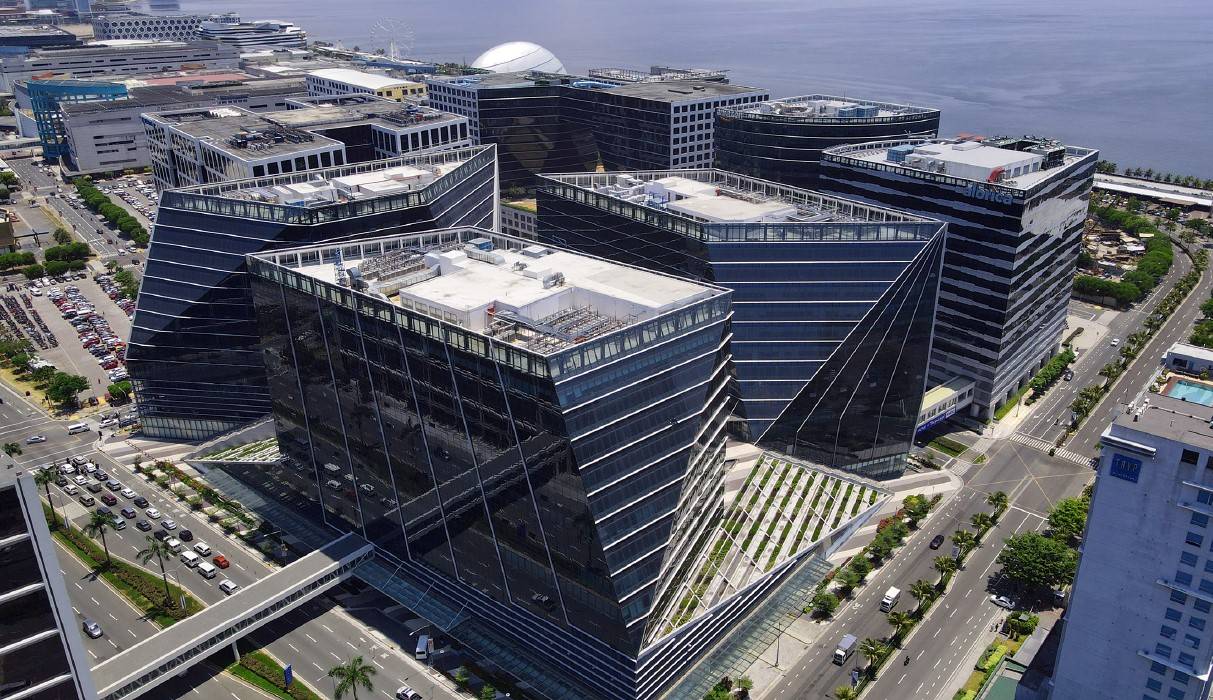 "We are expanding our office portfolio on the back of our growth momentum and optimism on the continued recovery of the real estate industry. This is supported by return-to-office policies, take-up of office spaces driven by e-commerce, BPOs and data centers, and demand for innovative and sustainable office solutions that necessitate growth in the real estate sector," said Alexis Ortiga, Vice President for Commercial Properties Group of SM Prime.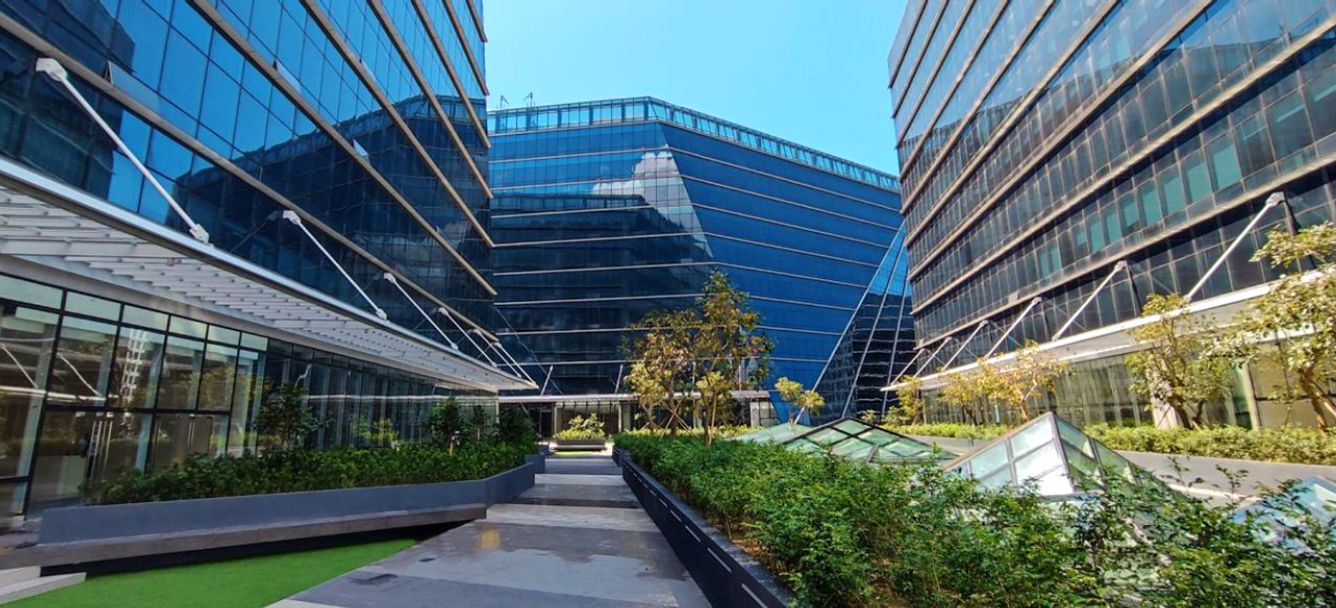 SM Offices is building resilient future-ready offices and is increasing its domestic foothold with leasable spaces in strategic locations across the country. Its latest development, FourE-Com Center, is designed by the multi-awarded and globally renowned architectural firm and master planner, Arquitectonica. Known for their design innovations with the use of materials, color, and geometry, Arquitectonica's vision for FourE-Com Center is inspired by crystal formations, with three adjacent rhombic towers sprawling down from a landscaped sky garden podium.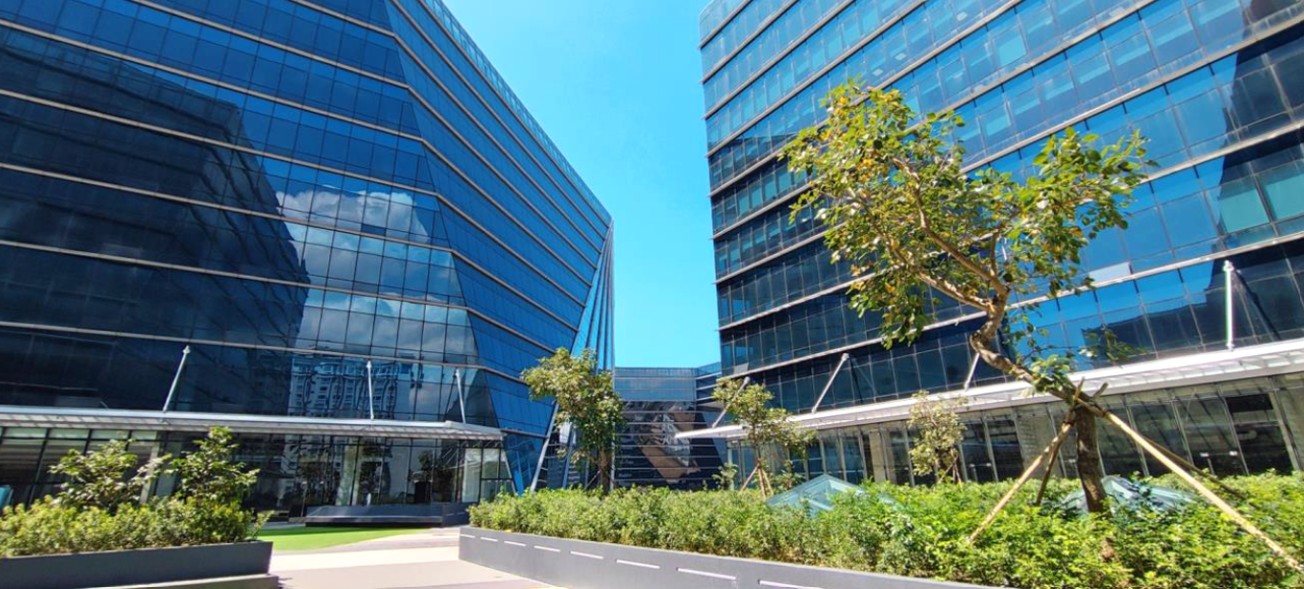 Offering over 100,000 square meters of leasable area spread across three towers of 15 floors each, FourE-com boasts of a courtyard podium on the fifth floor, that is poised to become a premier dining destination. It is envisioned to carry a variety of mid-to-high-end restaurants catering to diverse food cravings and entertainment. This sky garden also doubles as a communal plaza that promotes healthier living by providing a venue to respite and refresh one's mind, while overlooking the majestic Manila Bay horizon.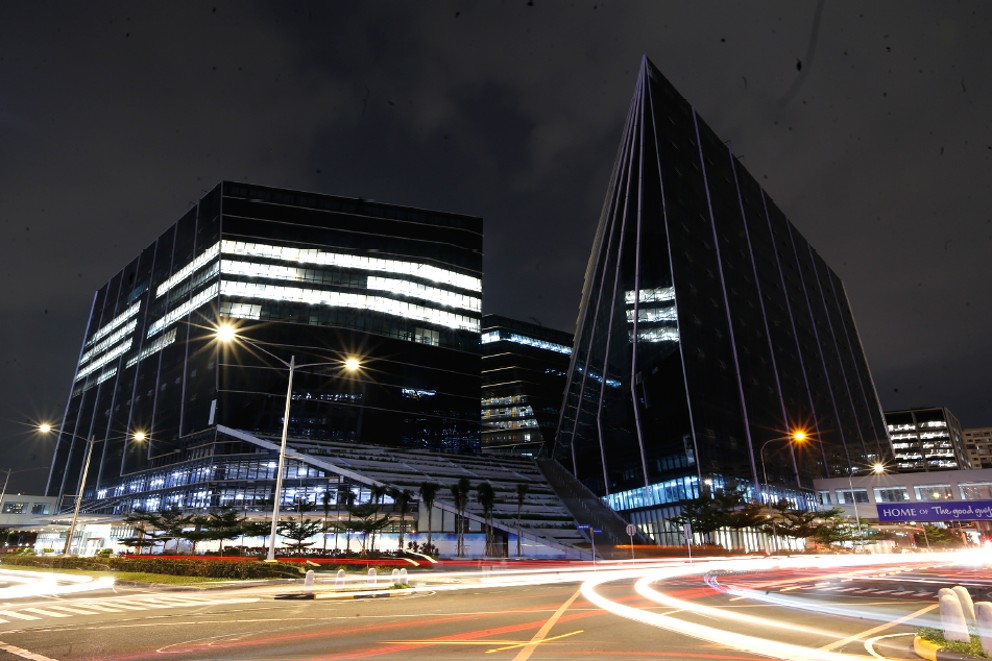 Following on the heels of the E-Com Series of office buildings and other SM Prime properties, FourE-com Center is dedicated to optimizing business operations while minimizing the impact on the environment by integrating ESG-sensitive strategies from construction to operation. The building's sustainable design features include a double-glazed glass curtain to allow natural light to permeate into office spaces, the use of LED lighting, water-saving fixtures and aerators, pressure-operated escalators, and recycled water for irrigation. Other building elements also include bike racks, shower rooms, and inter-connected elevated walkways to encourage a reduction in carbon footprint.
Expanding its portfolio of sustainable office buildings is SM Offices' contribution to SM Prime's vision of building innovative and sustainable developments. SM Offices sets a high bar for its office buildings. By adhering to strict standards and securing the coveted and most widely used green building rating system, Leadership in Energy and Environmental Design (LEED) certification, SM Offices validates that its office buildings are efficient, cost-effective, and better for tenant-partners and their employees, and the environment. Among SM Offices' LEED-certified buildings are the ThreeE-Com Center in the Mall of Asia Complex, Mega Tower in the Ortigas CBD, Aura Tower in BGC, and North Towers in Quezon City.
"We continue to build green buildings with world-class amenities and sustainable features that provide an inspiring work environment for our tenant-partners and stakeholders," Ortiga added, highlighting SM Offices' tenant roster which includes multinational and local companies in e-commerce, financial services, information technology, telecommunications, logistics, and retail. The addition of the newest Pre-LEED certified FourE-Com Center solidifies SM Prime's thrust for master planned office spaces and innovations that are designed to provide ideal work environments for its tenant-partners.